Clinical Mental Health Counseling Online Program Prepares Grad for Future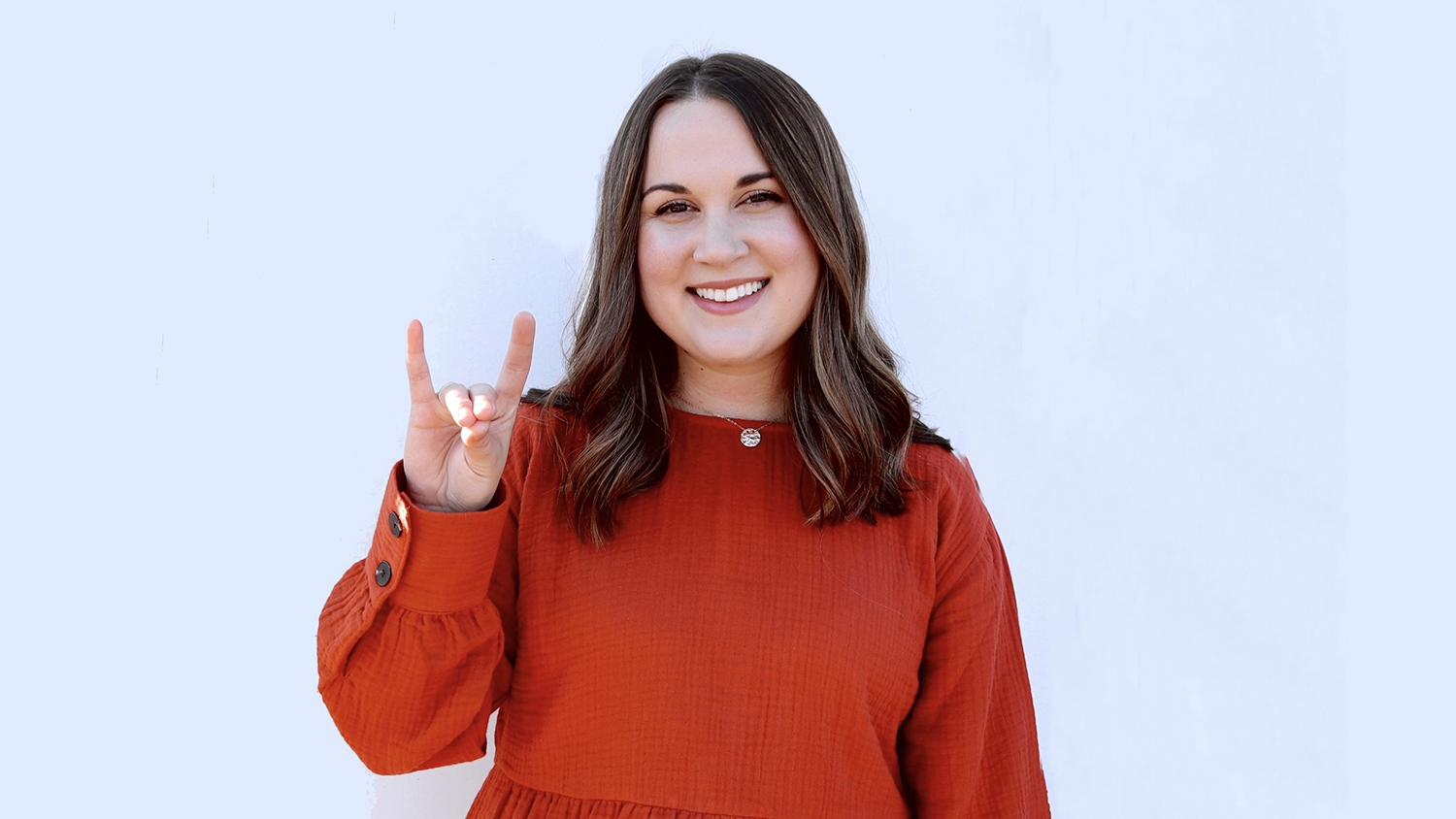 Michelle Garcia didn't grow up having discussions about mental health. Instead, she learned to push through the hard times with no complaints. Along her journey of life, she found you can be a hard worker while still embracing mental health and vulnerability.
This December, Garcia earned her Master of Education in Clinical Mental Health Counseling through the online program at NC State.
Garcia completed her internship for the program at West Counseling, PLLC in Concord, North Carolina. Thanks to this experience, Garcia has secured a position upon licensure as a licensed clinical mental health counselor associate with the practice.
Assistant Teaching Professor Cristina Braga shared powerful words to describe Garcia's success and passion throughout the program, "After two and a half years of dedication and self-discovery in the field of mental health, we are now seeing Michelle flourish in the community… Not only is she a strong student, she consistently helps peers in need, involves herself in the mental health education community, and shows consistency and growth within her clinical work. She has always remained sensible and positive during some of the hardest points in our program." 
And even though commencement exercises were virtual this year, Garcia still poured a glass of champagne from her couch to celebrate her achievements. 
"I am so proud of myself and my fellow graduate students. This is such a life-changing accomplishment, and I am wholeheartedly looking forward to my future," she says. 
Below, read Garcia's inspiring story in her own words. 
Tell us your story. Why did you pursue the Master of Education in Clinical Mental Health Counseling? When did you know that you were interested in counseling as a career? 
During my childhood and adolescent years mental health was rarely discussed in my family. My family valued hard work, grit, and pushing through the difficult times with no complaints. As I reached middle and high school, I started to develop personal values, and gain a deeper sense of who I was and who I wanted to be in this world. Rather than pushing through the hard times, it was important for me to embrace the difficulty of life and unconditionally love and support the people around me. Because of the values I developed growing up, friends and family consistently expressed to me they felt safe with me, that they felt they could talk to me about anything, and that they felt I truly cared about them. With empathy, compassion, and the need to love and help people, I applied to Meredith College to pursue a degree in a helping profession. During that time my top career interests included being a teacher, a guidance counselor, or a social worker. As time went on and I started exploring each major, it was seeming that my personality traits and career interests aligned with mental health counseling more than any other career. After some career consulting and lots of research, I made the decision to pursue a degree in psychology, with the plan to eventually go to graduate school for counseling. Upon graduation from Meredith with a B.A. in psychology I took some time to gain experience in the workforce and to start earning an income. I first worked for Meredith College as an admissions counselor, and then soon after started working for NC State in research administration. After two years of being in the workforce, I knew I was ready to pursue a counseling degree and career in mental health. The tricky part to this decision was that I wanted to continue working full time, which meant that I needed to find a counseling program that aligned well with being a full-time worker.
Upon extensive research of programs, it was apparent that NC State's counseling program was the right choice in all regards. The first reason was their notable dedication to providing adult/working students the opportunity to pursue a counseling degree while continuing to work. The courses were taught at night, and their program structure eased us into coursework which was helpful as a full-time worker who was adjusting to graduate school. Another notable difference between NC State and other programs was the commitment of the online program faculty. They immediately helped me and others with general knowledge, planning, and preparation before even entering the program. Their optimism and support meant a lot during the process of choosing a graduate school. Now as an almost-graduate, I can confidently say that their support throughout the program was so impactful, and I couldn't have got through this program without them. Lastly, the CACREP certification was huge for me, especially with the option to do the program online. It is hard to understand why CACREP is so important at the beginning of graduate school, but luckily, I had some guidance from a mentor who was already in the counseling field and advised me on this topic. She informed me that without a CACREP certification it is much more difficult to obtain licensure as a counselor in North Carolina.
Describe your experience in the online Clinical Mental Health Counseling program.
My experience in the clinical mental health counseling program has been wonderful. The first year and a half of the program is filled with vital foundational knowledge that I will use throughout my entire counseling career. By the time I felt like I had a grip on the foundational material, I started my practicum experience. Practicum consists of 100 hours of clinical work that can be done at any counseling practice or center, and I did mine at the Davidson College Center for Student Health and Well-Being. This transition was seamless, as it helped me apply my counseling skills in a safe and supervised environment. The next step to my journey was an internship, which consists of 600 clinical hours. During my internship experience, it was evident that I had full support from the faculty at NC State, which is a perfect way to enter into such a big role. Now after completing my foundational classes, practicum, and internship experience, I can confidently say that I am more than prepared for the counseling field.
Aside from coursework and clinical work, I have also built a strong relationship with the counselor education community. These relationships will continue throughout my counseling career which is so meaningful to me. In addition to building close relationships, last summer I completed an independent research study where I worked closely with Dr. Cristina Braga to look at the relationship between emotional intelligence and mindfulness. This study helped me to strengthen my research skills and take a deeper dive into a counseling topic that interests me – which is what we often have to do in our field in order to gain more expertise. Overall, this program has helped me develop a well-rounded set of counseling skills that will impact the rest of my career in mental health counseling.
How did you balance life, working and completing your degree?
The most important takeaways that I can give on this topic is to always advocate for yourself and to avoid perfection. One way to advocate for yourself is to be open and honest with your employer, professors, and support system in terms of your responsibilities and commitments. From my experience, communicating with my network about what I needed and what I was going through helped me navigate my work-life balance much better because I had people on my team rooting for me. The other half of this is avoiding perfection. In undergrad, grades are everything, and we are constantly worried about GPA, tests, and papers. The difference in graduate school is that all of the assignments are truly there to help you grasp what your future role will be. Don't treat assignments as a task to check off the list, but rather, embrace the information and treat it as if this will be something you could use throughout your career. Once you train your mind to see graduate school from that perspective, it takes the pressure off immensely. Avoiding perfection applies to life circumstances as well. My apartment wasn't always clean, I didn't always have time to cook, and my sleep schedule was inconsistent. Although, the takeaway is that it didn't matter because I was working towards a meaningful degree, and graduate school is only temporary. Have some self-compassion while you are navigating this program.
How do you see your degree helping you in your career?
If it wasn't for this program, I would not be able to become a licensed clinical mental health counselor. The steps to becoming a counselor include graduating with a master's, completing practicum and internship, and getting approved by the North Carolina board of counselors to become licensed. My program fully prepared me for these next steps in my career, which is to apply for licensure and then serve as a clinical mental health counselor associate. My program also launched my career journey because I currently have a job offer as a clinical mental health counselor associate (upon approval of licensure) at my current internship site. I am THRILLED about this opportunity and 100% thank NC State for preparing me for this role.
Additionally, I have a foundational knowledge that I will use throughout my entire career. I have saved all of the resources that I used throughout graduate school and I frequently refer back to this information to help me in my practice as a counselor. It is important to save any and all resources that professors provide because they will come in handy later.
Did you have any faculty members who were particularly inspiring or stood out to you?
Dr. Cristina Braga is a professor in my program that stands out to me because of her unconditional support, guidance, and knowledge she has given me. She not only gave me the pertinent knowledge to be a good counselor, but she taught me how to think and solve problems like a counselor. The information and critical thinking skills that Dr. Braga has taught me throughout the past few years will stick with me throughout my entire counseling career.
In addition to being a wonderful professor, she also taught me that we are all human in this profession. Before graduate school I viewed counselors as being formal and professional, people who never had serious issues. Throughout our program she wasn't afraid to express her emotions, to cry, to tell us her true and raw thoughts, and to show vulnerability. By displaying this she taught me that it is ok to do the same. I now realize that it is ok to be vulnerable in our field, and to express our true emotions to colleagues. It has immensely helped me form strong relationships with the other counselors at my practice. Thank you so much Dr. Braga!
What is your advice for other working professionals who are thinking about continuing their education or are currently enrolled in a master's program?
My advice is to get your education regardless of how you make it work. Your education is something that nobody in the world can take away from you. Doing an online master's program is so empowering because it allows you to continue supporting yourself and your family, while also working on your future career. I would recommend it to anyone who isn't able to stop working for graduate school. Get your education and be proud of it! 
Feel free to share any other thoughts regarding your overall learning experience at NC State.
Everyone is going to tell you that graduate school is too hard, that it's too expensive, that it's too time-consuming, that it's too stressful. Do not listen to those people. It's not too hard, or too expensive, or too time-consuming, or too stressful. It's challenging, but it promotes growth; it's expensive, but so is lack of education; it's time-consuming, but so is working for a dream that's not yours; it's stressful, but you will come out stronger and smarter. Please don't let others deter you from fulfilling your purpose.
Congratulations to Michelle Garcia and the rest of NC State Class of 2020! 
Are you interested in advancing your career with a Master of Education in Clinical Mental Health Counseling from NC State Online? Visit the program page or online.ncsu.edu/programs for a full list of degree and certificate programs.