Online Fitness Walking Course Receives Quality Matters Certification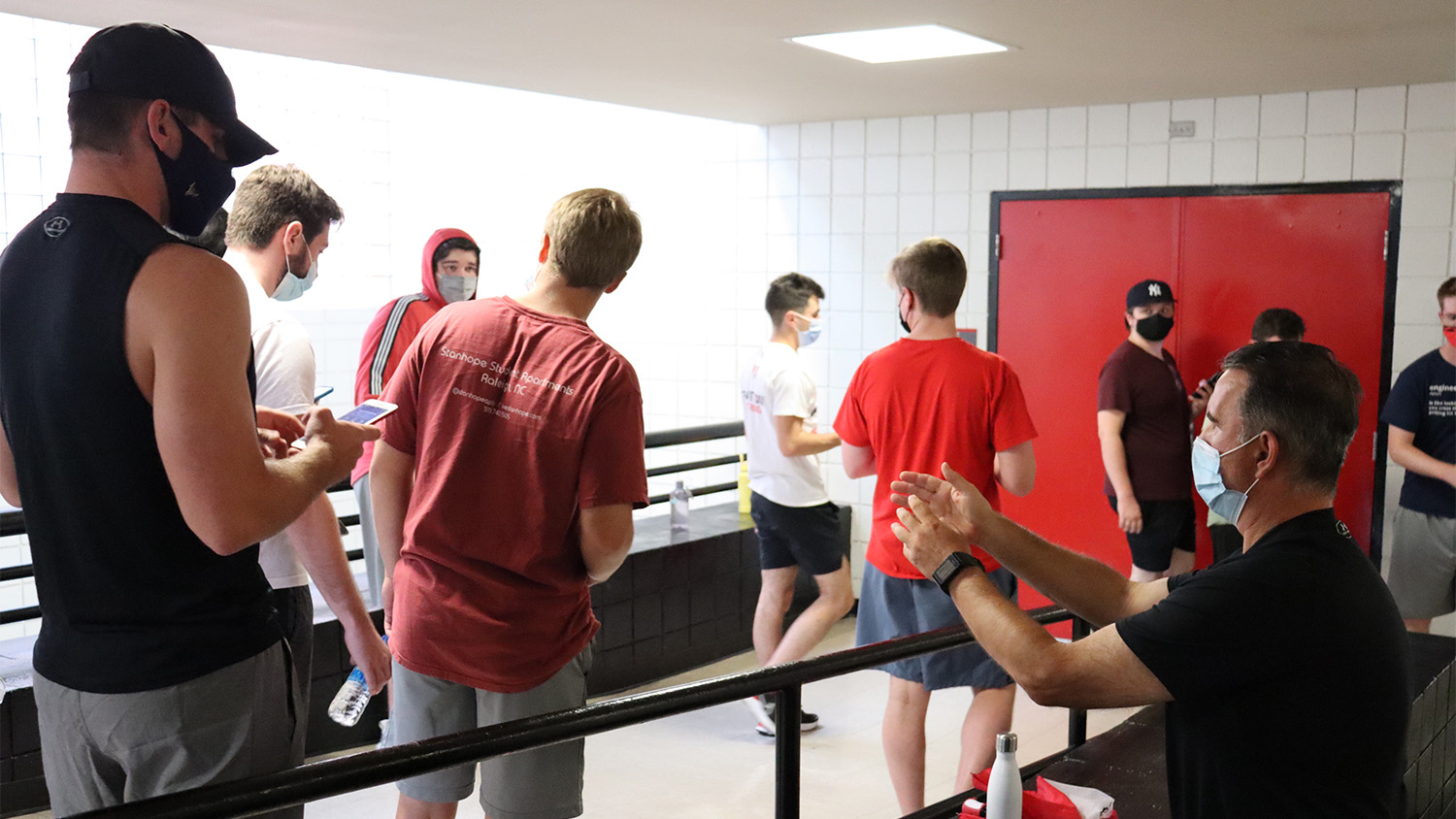 By Evan McNeill
The Department of Health and Exercise Studies (HES) course HESF 102 – Fitness Walking earned the Quality Matters (QM) Certification Mark following a rigorous review process as of August 27. The course is taught by Peter Koutroumpis, a senior lecturer in the department. The QM Certification Mark is the internationally recognized symbol of online and blended course design quality and represents Koutroumpis' ongoing commitment to creating learning environments that provide learners with a clear pathway to success.
The certification is the result of Koutroumpis' dedication to continuous improvement, including the innovative work involved with the certified course, which is now listed on the QM directory of certified courses.
"The Quality Matters Official Review provided the opportunity to reflect on this course and examine it from the learner perspective," Koutroumpis said. "From accessibility to learner engagement to assessments, the review used internationally-recognized standards and best practices to examine critical course components related to the learner experience and ultimately learner success."
According to NC State Digital Education and Learning Technology Applications (DELTA), Koutroumpis was one of five faculty to participate in last semester's cohort of the Online Course Improvement Program. This was a rigorous professional development program in which he collaborated with colleagues and DELTA staff to learn about the QM Higher Education Standards and apply them to one of his online courses. Koutroumpis continuously demonstrated his dedication to online course improvement by adhering to the program schedule and requirements, being proactive by asking for clarification when he had questions, and readily volunteering to submit his course for an official QM Review.
Koutroumpis recently answered some questions regarding the QM Certification Mark and its potential long-term impact:
How does the Quality Matters certification impact HESF 102 Fitness Walking, and other HES classes, moving forward?
"Receiving a national certification in meeting QM standards places the HESF 102 course as a model and template for other online-based HES classes, and all activity-focused classes offered anywhere, to follow. The certification specifically for Fitness Walking sends a message to students and faculty in other disciplines that the learning activities and assessments that comprise the curriculum accurately align within stated module, course and departmental learning objectives — there is a tie-in with theoretical and physical practical skills development and fitness and wellness principles. Students will understand that for every assignment, skills workout, and quiz, there is a specific learning purpose and outcome for each. Following the Course Map helps them see the 'big picture' of what they'll experience in the class."
What is the greatest benefit of HESF 102 being Quality Matters certified?
"Assurance of teaching and instruction quality in offering an online version of HESF 102 builds trust with students and the entire university population. Having confidence that taking the class will be just as meaningful and rigorous as in-person class offerings allows HES to offer more sections to students who are off-campus to earn their required 100-level GEP credit. For the instructor, the benefit of continually reviewing and refining how the activity course is presented online (via Moodle) to adhere to QM standards also strengthens the ability to offer a high-quality in-person class as well."
What were your biggest takeaways throughout this process?
"Progressing through QM training and eventual national certification and review, the presence and guidance from the staff at DELTA and faculty mentors, and the external QM Review Committee, was important. The process really allowed me to engage professionally with those with different skill sets than mine. I entered every online meeting and interaction with them with a blank slate, and came out with something new to focus on afterwards. Though we were diverse in our teaching subjects, the priority was to help one another wrap our minds around the standards and how learning content is best structured to help students achieve required academic watermarks. That required honesty to realize that maybe a certain assignment or quiz wasn't structured properly or didn't align properly, and you just had to let it go, or improve it accordingly. That took time, but in the end, the investment and rigorous feedback created a better course to teach to students at NC State."
About Quality Matters
Quality Matters (QM) is the global organization leading quality assurance in online and innovative digital teaching and learning environments. It provides a scalable quality assurance system for online and blended learning used within and across organizations. When you see QM Certification Marks on courses or programs, it means they have met QM Course Design Standards or QM Program Review Criteria in a rigorous review process.
This post was originally published in DASA.