Creating Bright Futures Through Online Programs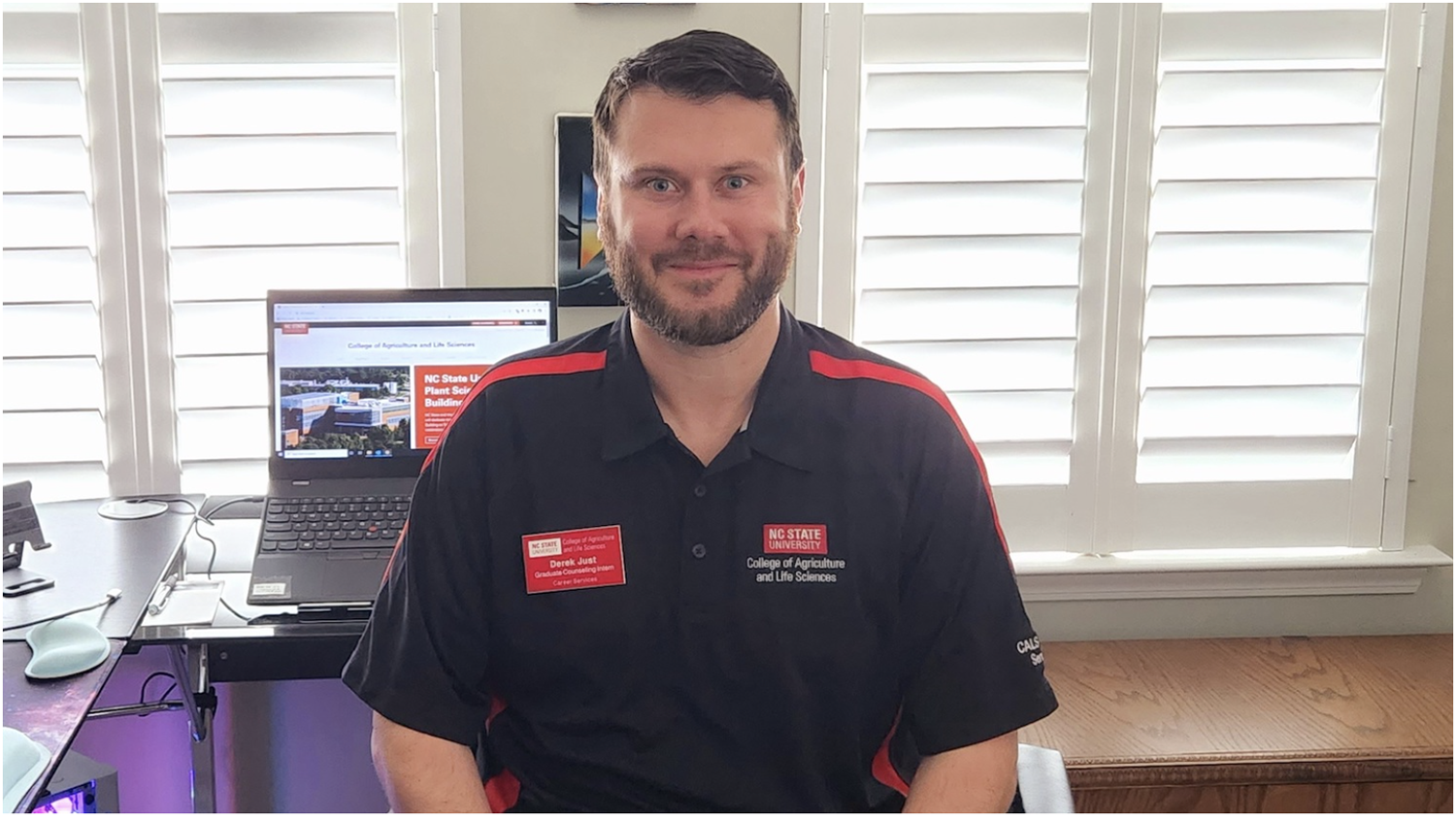 Derek Just is dedicated to helping students find their career path as a graduate of an NC State Online and Distance Education program.
"I chose to pursue a Master's in College Counseling and Student Development because I wanted to continue working in higher education helping students reach their academic and professional goals just as so many others had helped me reach mine," he said.
When Just graduated from high school in North Dakota, he enlisted in the military because it was the best financial path to college for him. After six years in the military, he earned his B.S. degree in Criminal Justice from Minot State University and began working with justice-involved youth and youth in treatment foster care before moving to North Carolina and making the decision to enroll in the three-year part-time cohort program.
"Some of the deciding factors for why I chose this program over others involved its schedule flexibility and student-centered focus," Just said. "Being a distance-based three-year cohort program enabled me to continue working my full-time job, which was very important to me."
The program requires students to participate in a 10-hour-per-week practicum for one semester followed by two semesters of a 20-hour-per-week internship, so Just was able to put his studies to practice as a Graduate Counseling Intern in the College of Agriculture and Life Sciences' Career Services. This internship gave him hands-on experience conducting college counseling sessions, guiding students through résumé and cover letter creation, mock interviews, career and major decision making, job searching, networking and salary negotiation.
"Being able to counsel students over multiple sessions has enabled me to help them with many aspects of the career search process," Just said. "One of the most rewarding aspects of my internship is getting 'thank you' emails from students who excelled at their interview and got a job or internship that they didn't think was possible prior to our sessions together."
Another meaningful experience Just had in the program was becoming a student veteran ambassador for the College of Education. Through the position, he could guide veterans and military-connected students, like himself, adjust to their university experiences.
Just found online learning to be a unique experience. He appreciated the time flexibility of the program, which gave him the opportunity to continue working through school, and felt fortunate to not have to commute to campus. However, he recognizes that working a full-time job during the entirety of his studies required a serious commitment.
"My advice for other working professionals who are thinking about continuing education is to be sure they have a support system in place," Just said. "It is important to be realistic about the amount of time required of a program and how those demands may impact one's personal and professional life. The rewards for continuing education are substantial, but so is the commitment."
The support Just received from his wife and faculty in the program encouraged him to persevere and reminded him to take time for himself at least one day each week.
"The faculty advisor for my internship, Dr. Angie Smith, and my site supervisor, Colleen Oliver, have gone above and beyond in helping me get through a very demanding and challenging time," he said. "I owe them a great deal for their tireless support and will be forever grateful for their impact on me."
Going forward, Just hopes to continue helping students prepare for their future by becoming a program director. He knows his experience in the program has better prepared him for this opportunity.
"Having a master's degree is generally a prerequisite for this type of position, so I am grateful to now have this achievement under my belt," Just said. "Learning counseling techniques has also positively impacted my life in other ways as it has made me a much better communicator and allowed me to develop empathic listening skills."
Just thanks his peers, NC State Faculty, and his colleagues at CALS Career Services for supporting him along the way. The meaningful relationships he created through the program made his experience memorable and encouraged him to stay motivated during the three-year program.
"I have grown immensely during the last three years. I am more organized than I have ever been, more confident than I have ever been, and a more empathic communicator than I have ever been," Just said.
Are you interested in pursuing an online Master of Education in College Counseling and Student Development? Visit the program page or online.ncsu.edu for a full list of degree and certificate programs.
This post was originally published in DELTA News.