Finding a Passion for Family Science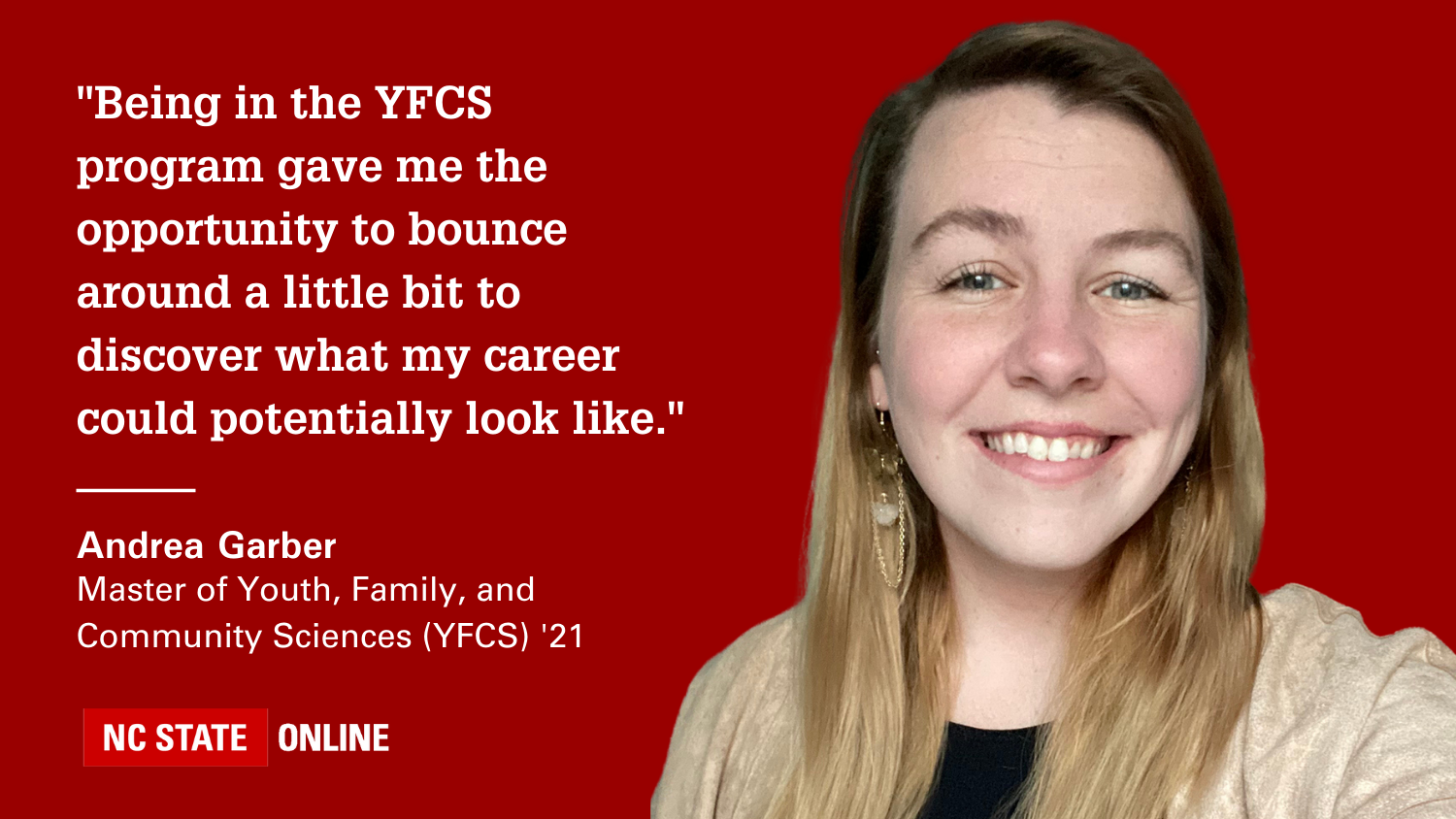 When Andrea Garber enrolled in the online Master of Youth, Family and Community Sciences (YFCS) program, she intended to strengthen her knowledge and abilities in her role as a camp director so she could improve her program. The COVID-19 pandemic forced her into a furlough that allowed her to reassess her career goals and direction.
ODE graduate Andrea Garber.

"Being in the YFCS program gave me the opportunity to bounce around a little bit to discover what my career could potentially look like. I spent time as a director for a teen services program and I also worked as a bilingual home visitor in a parent education program. Through those experiences, I learned a lot about myself and eventually landed in a position in foster care licensing," says Garber.
She says the flexibility of being a student in the NC State Online and Distance Education (ODE) program encouraged her to experiment with different career opportunities while constantly learning about new possibilities. Garber considered pursuing a master's degree in social work but chose the YFCS program because it was an interdisciplinary approach that allowed her to look at relevant topics through multiple lenses.
Garber found a path that she felt passionate about in foster care work as a family caseworker for Crossnore Communities for Children (Henderson location). She feels like she is making a meaningful
contribution to society as she gets acquainted with foster parents and helps to match children with them based on their strengths and needs. 
The NC State faculty Garber worked with were "endlessly supportive and very considerate" of the fact that she was working full time while pursuing her degree. She says all of the faculty members she worked with were outstanding and mentioned Assistant Professor Maru Gonzalez, Associate Professor Annie Hardison-Moody and Assistant Professor Jamie Alexander in particular.
"During my internship course, I was feeling a little defeated because it was challenging to virtually engage the youth I was working with. Dr. Gonzalez was a great sounding board. She helped me generate solutions and gain perspective on the challenge so that I could look at it as a learning experience, rather than a failure or defeat," says Garber. 
Garber plans to attend the large, in-person graduation ceremony to celebrate her accomplishments. And, she highly recommends enrolling in an NC State online degree program saying, "Do it! But, don't take on too much at once."
Are you interested in pursuing an online Master of Youth, Family and Community Sciences degree? Visit the program page or online.ncsu.edu/programs for a full list of degree and certificate programs. 
This post was originally published in DELTA News.